"Outdated"
This following page has been marked as outdated by the creator, as in the creator no longer considers this page relevant to their image, and is requesting someone to improve or fix up the page.
Pacifist and Genocide Mouse are both antagonists in Abandoned: Discovery Island.
Description
Pacifist and Genocide Mouse are both the same being, but act like multiple personalities. They randomly appear in the Office as an easter egg.
Appearance
Pacifist appears to be a grayscale chibi Mickey Mouse, missing a left ear, right eye, and right arm, and covered in blood. Genocide Mouse's the same, except his colors are inverted.
Behavior
Pacifist Mouse randomly appears in the Office, if the guard does not turn off a camera, Genocide Mouse will jumpscare them.
Trivia
It is likely Pacifist is friendly, but Genocide Mouse isn't
They're just an easter egg
Gallery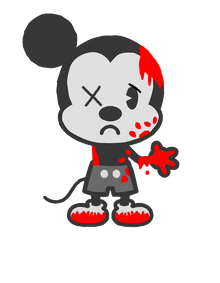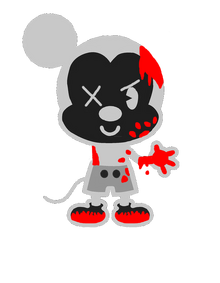 Ad blocker interference detected!
Wikia is a free-to-use site that makes money from advertising. We have a modified experience for viewers using ad blockers

Wikia is not accessible if you've made further modifications. Remove the custom ad blocker rule(s) and the page will load as expected.