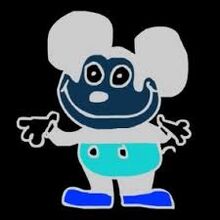 *Quick backstory on Mokey* Mokey is a made up cartoon character made by Sr Pelo [1]. He is a distorted Mickey character that is poorly drawn and screams A LOT. Photo negative Mokey is the equivalent of Photo Negative Mickey but he is well, Mokey. He is from the WIP game Fav Nieghts Ut Threshurs Ishland. I actually don't know what to put here so message me on Discord PNMokey#9364 for filler.
Ad blocker interference detected!
Wikia is a free-to-use site that makes money from advertising. We have a modified experience for viewers using ad blockers

Wikia is not accessible if you've made further modifications. Remove the custom ad blocker rule(s) and the page will load as expected.